If you have acne-prone skin, you're probably an expert in all acne treatment products and options already. In fact, you might be sick of your dermatologist's office at this point, and ready to say goodbye to being constantly told about different treatments that you should try.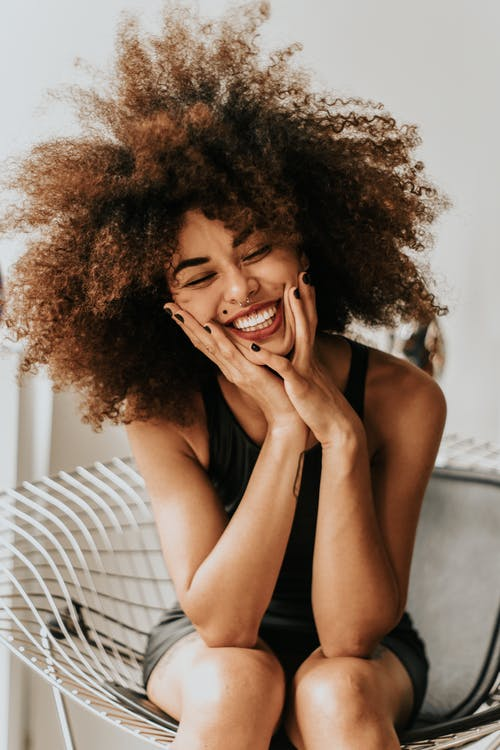 If you've suffered from acne or any regular skin irritation- whether that be mild acne, active acne, or just the occasional sun damage, there are loads of options for treatments so you can feel prepared for your next breakout. We've prepared this guide to hopefully put a stop to all the conflicting information about what treatments you should be getting.
We've also got the low-down on the newest trend for acne removal: microdermabrasion. But before we get into all that, let's focus on the options you have for treating your acne.
Treatment Options for Acne
1. Topical products. This includes things like creams and gels, usually prescribed by a dermatologist or pharmacist used to treat moderate to severe acne. These can be both soothing and also successfully eliminate acne. However, if you're very impatient to see immediate improvement, be aware that most topical courses are minimum six weeks.
One of our top picks is the Rhonda Allison Hyaluronic Serum: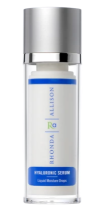 This fan-favorite not only ensures the skin stays moisturized, but removes impurities to help even out and clear the skin.
2. Antibiotics. Again, if you've got pretty severe acne, your dermatologist might prescribe some tablet antibiotics to help tackle your acne in full force.
3. Chemical peels. A favorite for regular spa-goers, chemical peels get rid of the dead skin cells by using a potent chemical to leave the skin clear. This is also a popular treatment to help acne, though is mostly effective on mild acne.
4. Microdermabrasion. You might know it as the treatment with tiny crystals. Microdermabrasion is a safe, topical treatment that gently exfoliates the skin and helps to release collagen. This tightens and firms up the skin. It's a completely painless treatment that has many benefits, but before getting to that, let's talk a little more about what microdermabrasion actually is.
What is Microdermabrasion?
Microdermabrasion works like this: diamond-tipped crystals are used to gently exfoliate the top layer of the skin and get rid of dead skin. Don't be freaked out by the mention of diamonds though- it's completely painless (it can actually feel nice). Microdermabrasion is becoming more and more popular and can be done by dermatologists, estheticians in spas and salons, or even by yourself (at-home microdermabrasion kits).
Microdermabrasion helps release collagen and elastin, which makes our skin cells healthier and more youthful. It also has the added side effect of helping any other topical treatments you may use- by improving cell function, your skin becomes more receptive to any gels or creams that you may be applying.
However, there are a few things you should know before booking your microdermabrasion treatment.
1. Microdermabrasion works best on mild acne. If you have moderate-to-severe acne in some parts of your face, it's a better idea to treat those with the traditional topical creams and/or antibiotics.
2. Similarly, don't use microdermabrasion for active acne. Active acne is where you've got the typical white spots and doing a microdermabrasion treatment (or any exfoliation treatment) can burst those spots. This can make your acne worse and increase the healing time- and put you at risk for further infection. Wait until the pus has gone away and the acne is less inflamed before doing a microdermabrasion treatment, or just focus on the areas where the acne isn't as severe.
3. It's a good idea to clean your face before your microdermabrasion treatment. This will help get rid of any dirt or grime under the skin and make it ready to be exfoliated.
4. Don't expect a quick fix. Make sure to take care of your skin afterwards, and don't freak out if your acne temporarily looks worse immediately after. Microdermabrasion can cause some stress on your skin cells, so it will look a bit worse before getting better.
5. Tell your esthetician about any skin issues before your treatment. If you've got particularly sensitive skin or have just gotten a lot of sun exposure recently, let your esthetician know beforehand. Make sure to also tell them if you're on any other treatments for your acne.
Microdermabrasion for Acne
Now that we've gotten the warnings out of the way, there are actually loads of benefits to getting microdermabrasion.
It's cost-effective. Depending on your spa or salon, they'll probably offer you a 30 minute session and encourage you to come back every few weeks until your acne has cleared up. This actually doesn't work out to cost too much, particularly compared to other treatments. An even cheaper option is to use a microdermabrasion kit- but make sure you have someone who knows what they're doing to help you!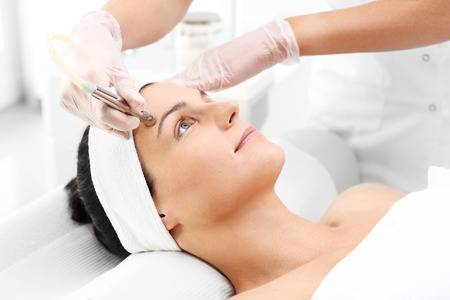 It has benefits beyond just treating acne. Microdermabrasion is commonly used to treat wrinkle lines, frown lines, age spots, stretch marks, and other skin abnormalities. So even if you're not happy with how it's worked on your acne, your skin is still going to get the benefit of exfoliation from your session- and might even prevent you from having to buy more expensive products to treat your stretch marks!
It can soften acne scars. Thanks to all that collagen and elastin that microdermabrasion helps produce, your scarring will be able to lighten significantly.
You can combine it with the facial you normally get. Most spas now offer microdermabrasion as an add-on option, so if you really like your regular chemical peel, call your esthetician and ask if you can get a microdermabrasion treatment as well. Both can work super well together for your skin rejuvenation.
If you're ready to put down the toothpaste and try out a new acne removal method, book your facial appointment today!