Microdermabrasion Treatments: Frequently Asked Questions
Microdermabrasion is a word you might have come across if you're a regular spa-goer, but you might not actually know what it means! If you have particular skin concerns due to acne, scarring, stretch marks, or any other irregularities, microdermabrasion work is quickly becoming the go-to treatment and might be a good option for your skin. But what does a microdermabrasion treatment actually involve?
We've gathered the most commonly-asked questions about microdermabrasion here for your convenience- think of it as a reference that you can use if you decide to book in for one of our microdermabrasion treatments. This guide will give you the full story about what microdermabrasion is and hopefully answer all your burning questions about this popular and trendy procedure.
Q: What is Microdermabrasion?
Microdermabrasion is a non-invasive facial procedure, that is mostly performed by dermatologists and at spas. It uses small, fine diamond tips and a suction-like device to remove your dead skin cells. It also gently exfoliates the outer layer of the skin, so your skin will be feeling smooth and healthy after treatment. This exfoliation also has the benefit of reviving your skin and giving you a healthy glowing look.
If the only type of exfoliation you're used to is a chemical peel, be aware- microdermabrasion works differently than that! But don't get freaked out by the technical-looking equipment- microdermabrasion is a completely safe procedure that has many skincare benefits.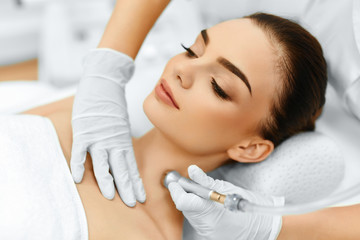 For example, a big benefit of microdermabrasion is that it stimulates the production of collagen and elastin in the body. These are the two things our body produces that helps keep our skin tight and flexible, and the production of them can get disrupted with things like stretch marks. Microdermabrasion can kickstart the production of both of these again, so it helps keep your skin tighter and more elastic.
This treatment is most commonly used on the face but can also be used on any part of the body to treat dark spots, unwanted blemishes, acne scarring, or many other common skin complaints. It's available for all skin types- just make sure to let your esthetician know about any particular skin worries you have!
Q: What is Microdermabrasion Used For?
Microdermabrasion treatments are used for a variety of skin conditions including:
Acne Scarring
Microdermabrasion is mostly effective for mild acne scars. Avoid having microdermabrasion on parts where your acne is activated, or for acne that is more advanced, it's a good idea to see what your dermatologist recommends.
Stretch Marks
Microdermabrasion can be very effective against those marks we get with dramatic weight gain/weight loss. It can work on old and new stretch marks alike but has better results if you go quickly after noticing them.
Fine Lines and Wrinkles
If you're noticing those annoying crows feet or age spots, microdermabrasion can be a very effective treatment. The collagen and elastin it helps stimulate will work wonders against these aging lines.
Sun Damage
If you've got a long history of going to the beach and not wearing sunblock, this might be an effective treatment to help calm your skin and get rid of some of the obvious signs of sun damage.
Enlarged Pores
Through the technology of using vacuum pressure and tiny crystals to remove dead skin, this treatment can help make your skin healthier and tighter and make your pores much less visible.
Oily/Uneven Skin
If you find your skin tends to be really oily or aren't happy with how uneven it looks in color or feel, microdermabrasion treatments can help rejuvenate the skin and make it look and feel more even and healthy.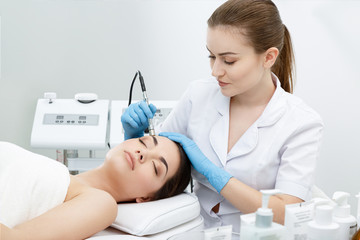 Dark Spots or Facial Scarring
If you've got these annoying spots that don't seem to go away and cause you to have uneven skin tones, this treatment can help lighten them considerably. It can also work on scars- no matter how old they are!
Q: How Many Times Should I Get a Microdermabrasion Treatment?
If you've had your first treatment and loved it, you might wonder how many times you need to come back. Your esthetician will be happy to work with you to come up with a treatment plan that works with your schedule.
The number of sessions you get can depend on a few factors, but most providers of microdermabrasion will probably recommend four to six sessions for the best results.
However, this can depend on a few things. Firstly, how severe are your skin problems? If you only have one small scar that you're looking to get rid of, it can take less time than if you have multiple skin conditions that you're hoping to treat all in one go. Make sure to tell your esthetician about all the skin issues that you have and what you're most concerned about, and they can help give you a timeline for when you can expect improvement.
Secondly, what are you expecting out of your microdermabrasion treatment? Or, what would you change about your skin? If you're only looking to moderately lighten your stretch marks, for example, you might not need as many sessions as if you want more drastic results.
You can always customize the number of sessions you have with your esthetician. Some people like as many as twelve sessions to target a specific area of skin, so don't feel self-conscious about booking in for multiple treatments! Another good thing to remember is that the skin regenerates every 30 days. Your series of treatments, therefore, will need to be repeated on a monthly basis for the best possible results.
Another good tip – ask the professionals! Our expert Houston estheticians have a huge amount of experience in performing microdermabrasion, and odds are they've probably come across someone with similar skin issues to you before. If you give an accurate description of your skin problems and history, they can recommend how many sessions you might need to show improvement on your skin issues.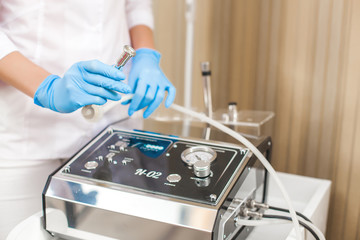 Q: Is there anything I should do in preparation for my first treatment?
For the area that you're going to have treated, it's a good idea to avoid interfering with the skin a week before your session. This means avoiding tanning creams, sun creams, waxing, and, most importantly, sun exposure. You also definitely will need to avoid laser treatments for your skin!
Three or four days before your treatment, we also recommend avoiding exfoliating creams or other treatments meant to remove dead skin. While it's fine to wear makeup in the week leading up to your treatment, make sure you've washed your face and removed any before your appointment. Having the skin as clear as possible will give you the best results!
Other than that, just relax and get prepared to be pampered! If you have any other questions in the meantime, feel free to contact us in advance of your appointment. We are more than happy to answer any other questions you have about your treatment or our spa!
Q: How Much Does Microdermabrasion Cost per Session?
This depends on the practice! At Bare Necessities, we offer microdermabrasion on its own (as in, not with a facial procedure) for $75 per session. This is well under the national average- the American Society of Plastic Surgeons estimated in 2017 that the average cost for a microdermabrasion treatment was $137!
We also offer an option for a microdermabrasion facial if you want to have microdermabrasion as a "top up" on your normal treatment. This is $160 and includes all the luxurious pampering of a traditional facial in addition to a microdermabrasion treatment. This is a good option if you want your microdermabrasion treatment to be a bit more relaxing.  As we like to say, "clinical results in a relaxing spa environment."
You can also add this treatment for $25 onto either an eye or a lip treatment to give the skin there a lovely and healthy glow. Also remember- if you're going for our facials, if you buy six you get the seventh one free!
Q: What Should I Do After Microdermabrasion?
In order to maximize the effects of your treatment, It's a good idea to avoid anything that could damage or irritate your skin afterwards- while this seems a little bit broad, it's actually not that many things to worry about! Firstly, and most importantly: stay out of the sun. Sun damage can harm the skin, especially if you've just had an exfoliation treatment.
You're also going to want to avoid using any other exfoliation techniques after your procedure.  Microdermabrasion acts as a pretty intense exfoliant, so it can be overkill to put something else on and can potentially irritate your skin. Keep an eye on how your skin is feeling, and you can always contact us after your treatment if you have any concerns about how your skin is looking.
Q: Are there any Microdermabrasion Side Effects?
You won't experience any pain or discomfort during the procedure, but you can expect a bit of redness, swelling, and tenderness following your microdermabrasion treatment. This is due to the suction that is used to exfoliate the skin.
A good way to treat this is to be kind to your skin. Depending on how sensitive your skin is, you can expect a bit of redness following the treatment due to the suction used in microdermabrasion. There also might be a bit of tenderness and swelling on the treated area, so be kind to your skin following the treatment. Avoid anything that might aggravate the skin further, but you can return to any and all normal activities immediately after this procedure.
Microdermabrasion Treatments in Houston: Book Today with Bare Necessities!
We hope that this guide has answered all of your questions about microdermabrasion. If you've had all your questions answered, and are ready to give this a go, book your Microdermabrasion treatment at our spa today!  If not, please come by and one of our skincare experts be more than happy to discuss your skincare needs with you.