When it comes to your face, everyone wants to avoid irritations or rashes. Whether the unfortunate red hue comes from two different products that react together poorly or an interaction with an ingredient that disagrees with your skin, it can be embarrassing and annoying. One of the most common negative reactions comes from two of the most common facial care must-do's: waxing and retinol. 
What Do People Wax On Their Face?
Facial waxing is a hair removal procedure that can either be done at home or at a salon. While many people elect to not wax their face, the most common areas of the face to wax are:
Eyebrows

Chin

Upper Lip

Sideburns

Nostrils
There are pre-made wax strips that can be used yourself, or a professional esthetician can assist using wax strips or hard wax. After applying the wax in the direction of the hair growth, either a cloth strip is applied or the wax dries on its own (applicable for hard waxes). Ripping the wax or cloth against the grain will remove all of the hair from the roots. This typically results in a much cleaner, long-lasting hair removal solution as opposed to shaving. 
What Does Retinol Do On Your Face?
Retinol is one of the biggest winners of Skincare 2020 – influencers all across social media are emphasizing the importance of using retinol on your skin starting in your mid-20's (or earlier!). Its anti-aging properties make for flawless-looking skin, and its texture-refining abilities make it a favorite for those with acne scars.
Our Favorite Retinols:
We can't have a post about retinol without giving a shoutout to our favorites. Both of these top-rated products are available on our online skin care store, where you can get free shipping on any purchase!
Obagi360 Retinol 1.0%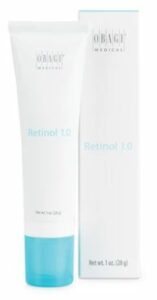 Loved by skincare gurus for its effectiveness without harsh side effects, we love the Obagi360 Retinol 1.0% formula!
Rhonda Allison Retinol Supreme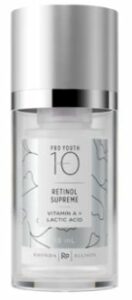 A more stronger retinol than its Obagi counterpart, the Rhonda Allison-specific retinol routine is second-to-none – check out the Rhonda Allison retinol page for other recommended products.
Why Can't You Wax After Using Retinol? 
The main reason why waxing is typically a bad idea after using retinol is simply that retinoids work so well. Retinoids and the process of waxing are both methods of facial exfoliation; you will notice fewer dead skin cells after continued usage of retinol and waxing. Therefore, it is too much for the skin to handle at the same time, typically resulting in irritation and redness. 
What Happens If you Wax After Using Retinol On Your Face?
Most people will experience redness that will appear almost as a "burn" – you may even initially think you were burned by hot wax instead of having a bad reaction to retinol. If you were burned by hot wax, you would have felt that immediately upon application, and not popping up after the appointment had ended. The redness occurs from the healthy layer of skin cells that is ripped off instead of a larger buffer of dead skin cells. Ouch!
How Long Should You Wait After Using Retinol To Wax Your Face?
If you are a diehard fan of both waxing and retinoids, you can still keep your skincare favorites! You just have to be smart about the timing of your waxing appointments – if possible, try to get as much waxed at one appointment to avoid staggering your dates. You should stop using retinol for a minimum of 3 days (though the recommendation is 5-7 days) before a wax to get the best results and avoid unhappy skin. You want to avoid having completely exfoliated skin going into a wax, so simply skin your retinol in your skin care regimen for a week until you go to your appointment, then give another day or so after the wax to resume your retinol. 
Another tip to combine waxing with using retinol is to apply your retinol in combination with a moisturizer. This will help lessen the side effects that retinol has on the skin, giving you more of a buffer when you do wax.
Similarly, you should always apply retinoids at bedtime, and never during your morning regimen. For similar reasons, your skin will be more sensitive to sunlight, making you more prone to burns. Always apply sunscreens in the morning and especially when using retinoids at night. 
Waxing & Retinol – Can We Ever Have Both?
It is indeed possible to use facial retinoids and get facial waxing – you just need to be smart about the timing and be honest with your esthetician. If you do use retinoids, we advise you to always go to a professional esthetician for your waxing needs instead of waxing yourself at home. This way, you can have proper oversight and application of post-wax care products.